Victron Energy
Regular price
$9,937.40
Sale price
$8,932.95
Unit price
per
Sale
Sold out
30 Days Price Match Guarantee

5-year Hassle Free Warranty

Lifetime Customer Support
Victron 48V 15000VA Quattro 48/15000/200-100/100 Inverter/Charger
The Victron 48V 15000VA Quattro Inverter/Charger is a versatile and powerful solution for off-grid projects and industrial settings. It features dual AC inputs with an integrated transfer switch, allowing seamless switching between two independent power sources. The primary AC output provides uninterrupted power supply during grid failures or when disconnected from the main source. The Quattro can operate in parallel with up to six units, providing virtually unlimited power capacity for large-scale projects. It also offers split phase and three-phase configuration options, making it suitable for various advanced applications. The Power Control and Power Assist features efficiently manage limited generator or grid power, ensuring continuous operations without overloading.
Optional Accessories: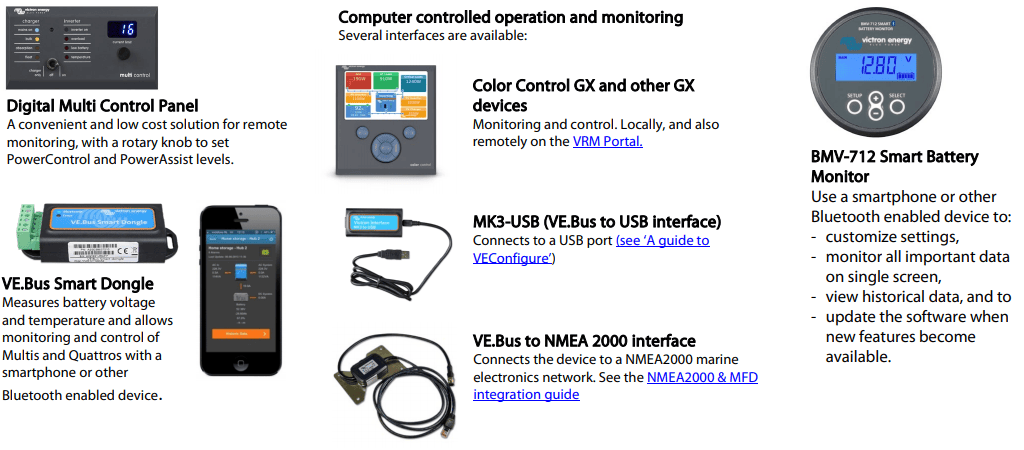 Helpful Victron Videos

Did You Know - Choosing the right MPPT for your solar by using our calculator
How to not blow up your Alternator when charging a Lithium Battery with a DC-DC Charger
Share
View full details
Victron 48V 15000VA Quattro 48/15000/200-100/100 Inverter/Charger
Victron 48V 15000VA Quattro Inverter/Charger
Dual AC Inputs with Integrated Transfer Switch
Dual AC Outputs for Uninterrupted Power Supply
Virtually Unlimited Power with Parallel Operation (Up to 6 units)
Split Phase Options for Advanced Applications
Three-Phase Capability for High-Demand Applications
PowerControl for Efficient Power Management
PowerAssist for Supplementing Insufficient Power
Seamless Solar Energy Integration
Easy System Configuration and Monitoring
Remote Monitoring and Control
5-Year Warranty
Victron 48V 15000VA Quattro 48/15000/200-100/100 Inverter/Charger Specification:
FAQ
What is the main advantage of the Victron Quattro's Dual AC Outputs?

The Dual AC Outputs ensure uninterrupted power supply, even during grid failure or when shore/generator power is disconnected.
How many Quattro units can be operated in parallel to meet larger power needs?

Up to six Quattro units can be operated in parallel, providing a massive output power suitable for industrial-scale projects.
What features does the PowerControl function offer?

Power Control allows setting current limits on each AC input, ensuring efficient power usage and preventing overloading of the generator or mains supply, especially for off-grid and UPS systems.