Solar4rvs
Regular price
$2,192.00
Sale price
$1,892.00
Unit price
per
Sale
Sold out
Features
Enerdrive ePOWER 2600W True Sine Wave Inverter with AC Transfer Switch & Safety Switch
The Enerdrive ePOWER 2600W Inverter with AC Transfer & Safety Switch is one in a family of affordable, high quality, professional level inverters by Enerdrive. By using the latest power conversion technology, ePOWER inverters deliver clean and energy efficient true sine wave AC power from your DC supply.
This Enerdrive ePOWER Inverter incorporates a 16A AC Transfer Switch which allows for seamless AC power transfer between Mains/Generator and Inverter. This helps to keep your appliances running with almost no break time on AC transfer and allows for a much simpler installation on-board.
Also included in the unit is a RCD Safety Switch. This switch monitors the flow of electricity through the inverter and detects any problems that may pose a risk to personal safety and switches the output power off within 0.03 of a second.
The Enerdrive ePOWER 2600W is built to operate basic equipment such as power tools, computers, microwave ovens, televisions and other appliances that use up to 2600W of power for operation. All Enerdrive ePOWER Inverters are covered by our extensive 3-Year warranty.
Enerdrive ePOWER Inverter Features:
Seamless 16A AC Internal Transfer Switch
AC RCD/Safety Switch with test button
Removable LED Remote Control Display Panel
Regulated Pure Sine Wave Output
Silent Operation
Compact Size for Easy Installation
USB Port for charging USB devices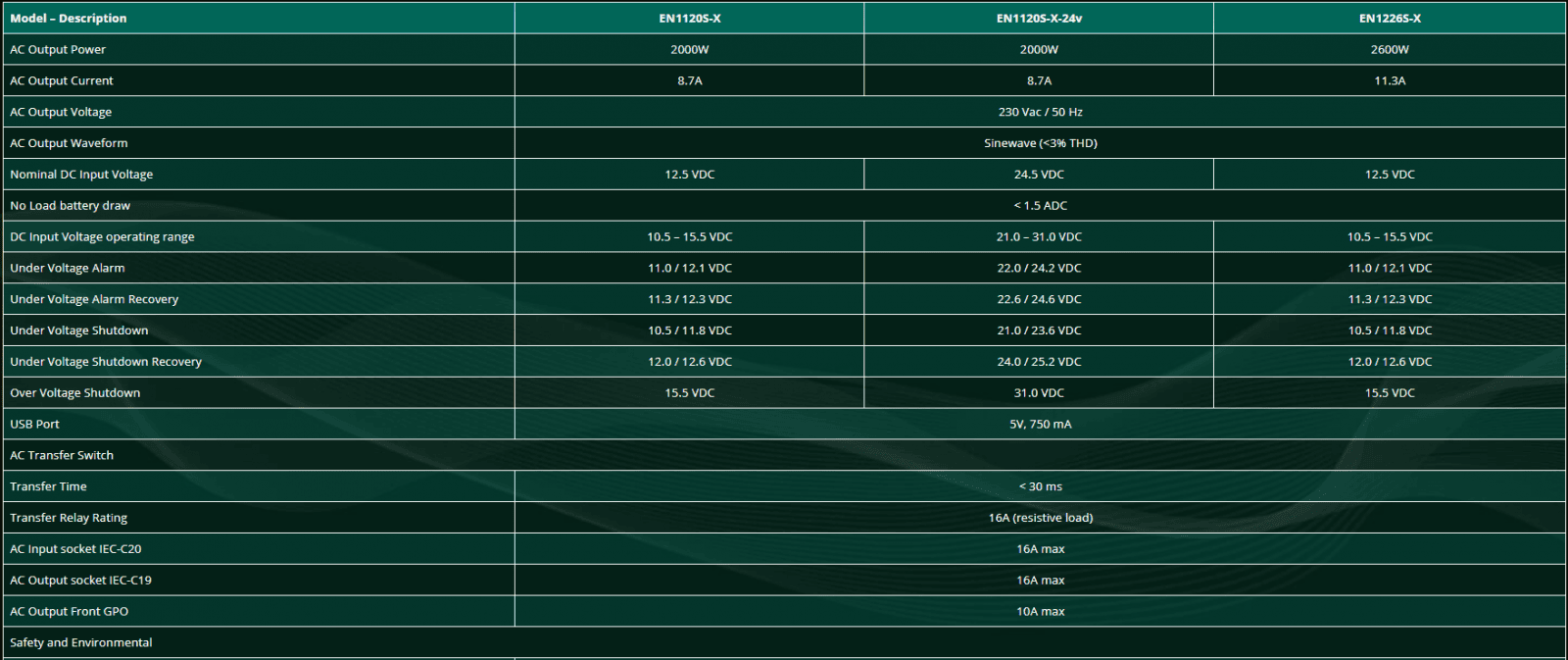 Enerdrive 2+3 Year Limited Warranty
Enerdrive's 5 Year Extended Warranty includes …
Our standard 2 Year Limited Warranty
Our 3 Year Extended Warranty Program
3 Year Extended Warranty Enerdrive's
Extended Warranty Program offers you 3 additional years of cover with our Trade-Up option. Trade your product to the latest model for a fraction of the new price. With most units now unserviceable by the user, the cost of repairs mount up. This warranty offers you the choice to either repair the unit at a cost or Trade-Up your unit for a new one at a discounted price.
2 Year Limited Warranty
Our goods come with guarantees that cannot be excluded under the Australian Consumer Law. You are entitled to a replacement or refund for a major failure and for compensation for any other reasonably foreseeable loss or damage. You are also entitled to have the goods repaired or replaced if the goods fail to be of acceptable quality and the failure does not amount to a major failure.
The limited warranty program is the warranty that applies to all Enerdrive products, and it sets forth all the responsibilities of Enerdrive. There is no other warranty, other than those described herein. Any implied warranty of merchantability of fitness for a particular purpose of the Enerdrive product is limited in duration to the duration of this warranty.
This Enerdrive product is warranted, to the original purchaser only (proof of purchase is required), to be free of defects in materials and workmanship for two years from the date of purchase* without additional charge. The warranty does not extend to subsequent purchasers or users other than OEM applications.
This Enerdrive product is not intended for commercial use. This warranty does not apply to damage to units from misuse or incorrect installation/connection. Misuse includes wiring or connecting to improper polarity power sources.
Return and/or Repair Policy
If you are experiencing any problems with your unit, please contact our customer service department at Enerdrive before returning product to retail store. After speaking to a customer service representative, if products are deemed non-working or malfunctioning, the product may be returned to the purchasing store within 30 days of original purchase. Any defective unit that is returned to Enerdrive within 30 days of the date of purchase will be replaced free of charge.
If such a unit is returned more than 30 days but less than two years from the purchase date, Enerdrive will repair the unit or, at its option, replace it, free of charge. If the unit is repaired, new or reconditioned replacement parts may be used, at manufacturer's option. A unit may be replaced with a new or reconditioned unit of the same or comparable design. The repaired or replaced unit will then be warranted under these terms for the remainder of the warranty period. The customer is responsible for the shipping charges on all returned items back to Enerdrive.
Limitations
This warranty does not cover accessories, such as adapters and batteries, damage or defects result from normal wear and tear (including chips, scratches, abrasions, discolouration or fading due to usage or exposure to sunlight), accidents, damage during shipping to our service facility, alterations, unauthorized use or repair, neglect, misuse, abuse, failure to follow instructions for care and maintenance, fire and flood.
Share
View full details