Renogy
Regular price
Sale price
$1,594.98
Unit price
per
Sale
Sold out
30 Days Price Match Guarantee

5-year Hassle FreeWarranty

Lifetime Customer Support
48V 50Ah Smart Lithium Iron Phosphate Battery
DESCRIPTION
The Renogy Smart Lithium Iron Phosphate Battery is the perfect option for off-grid energy storage systems. The 48V nominal voltage ensures low heat generation and high efficiency during high-power transmission. The modular design easily scales to meet a range of configurations—making it simple to tailor your energy requirements to specific projects. The battery meets the highest safety standards and has an exceptional lifecycle, optimized with proprietary manufacturing processes and cell architecture. The state-of-the-art battery management system (BMS) enables comprehensive protection features and real-time monitoring. With built-in intelligent self-heating, the battery is rechargeable even in low-temperature conditions.
Should you need to connect several batteries in parallel to build a battery bank, Renogy offers the Battery Interconnect Cables (not included) in different lengths for your convenience.
NOTE:
● The normal operation of the self-heating function requires a stable charge current greater than 3A for each battery in the parallel battery bank. The self-heating function will not be able to operate normally if a PWM charge controller or a small current battery charger is used to charge the battery at low temperatures.
● Please secure all cable connections to the proper specification in order to ensure good contact between the cable lugs and the terminals. Over-tightening cable connections can cause terminal breakage and loose cable connections can cause terminal meltdown or fire.
● DO NOT string the battery in series. ONLY connect batteries of the same manufacturer and model in parallel.
● Please avoid too high a voltage difference between paralleled batteries, despite the auto-balancing function, to avoid triggering the over-current protection.
If you have any questions regarding this product, please submit a case !
MINIMUM 12V LITHIUM BATTERY BANK SIZING
PACKAGE INCLUDES
48V 50Ah Smart Lithium Iron Phosphate Battery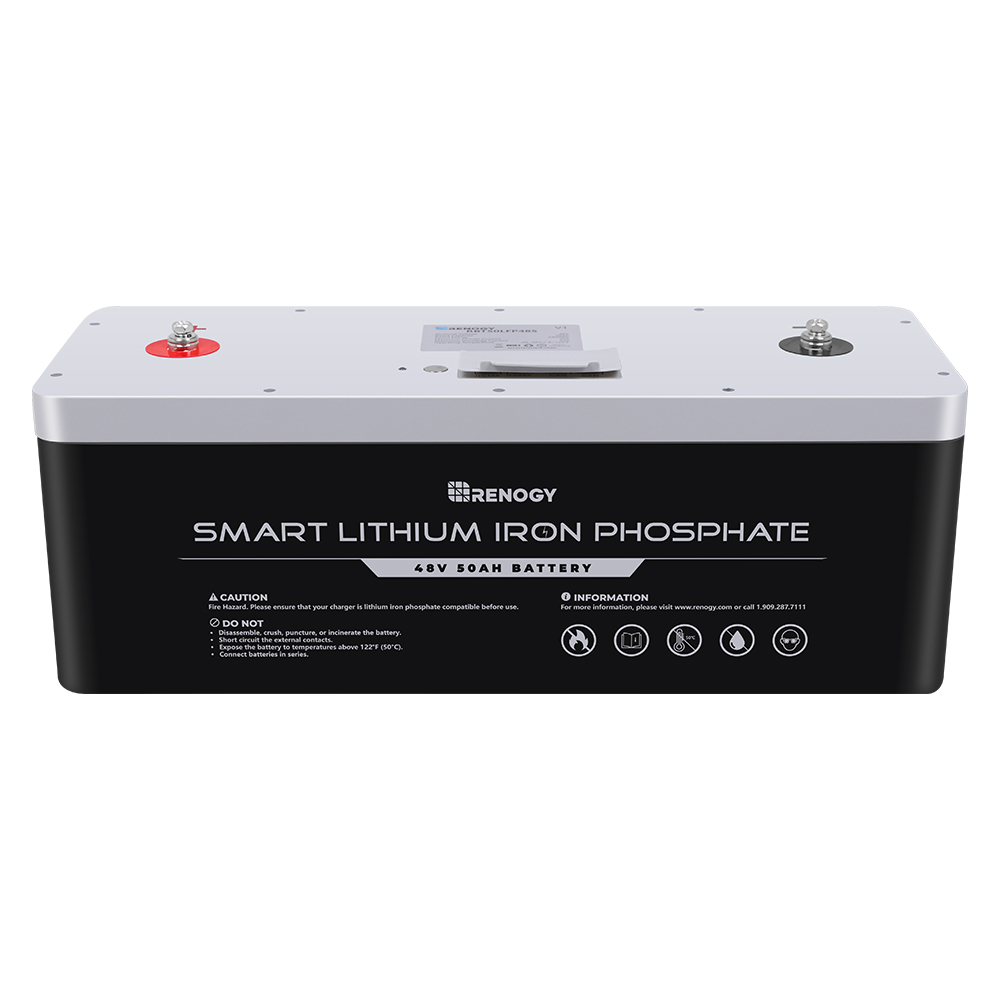 1 x
48V 50Ah Smart Lithium Iron Phosphate Battery
Share
View full details
48V 50Ah Smart Lithium Iron Phosphate Battery
Modular Design
Easily connect multiple batteries in parallel with the auto-balancing function to meet the power and energy requirements of different system setups.
Reliable System
The battery management system (BMS) and high-performance dual-processors provide comprehensive protection features and real-time monitoring.
Uncompromised Quality
The battery features an exceptional lifespan of more than 4500 cycles (80% DOD), a 50A maximum discharge current, and a wide range of operating temperatures.
Communication Port
The battery features a communication port—enabling communication between connected batteries, external devices, and host computers.
Self-Heating
The intelligent self-heating feature keeps the battery charged in cold environments.
48V 50Ah Smart Lithium Iron Phosphate Battery Specification:
SPECIFICATIONS
Cell Type: LiFePO4

Rated Capacity (0.2C):50Ah

Cycle Life (0.2C, 25℃):4500 Cycles (80% DOD)

Nominal Voltage: 48V

Connection Method:Parallel

Voltage Range: 42V~55.5V

Communication Port: RJ45 (RS485 Protocol, CAN protocol)

Maximum Charge/Discharge Current

:

50A

Dimension: 22.7 x 8.46 x 7.87 inch / 576 x 215 x 200 mm


Charge Voltage:54V

Weight:

60.8 lb. / 27.6 kg

Charge Temperature Range:32℉~131℉ / 0℃~55℃

Discharge Temperature Range:

-4℉~140℉ / -20℃~60℃

Storage Temperature Range:

-13℉~149℉ / -25℃~65℃

WARRANTY INFORMATION
Accessories
5-year p

rorated

warranty
FAQ
What are Renogy battery's greatest advantages?

Firstly, our batteries use the most up to date pouch cell technology. Currently, there are a few battery brands on the market using pre-used battery cores, these have a negative impact on the battery's life span and present safety risks. In addition, Renogy batteries feature, self-heating functions, an auto-balancing system and an advanced and efficient BMS system. Moreover, Renogy batteries have passed the free drop test,Electro Magnetic Compatibility testing, forced overcharge/discharge test,and crash test.
What exactly are pouch cells?

Soft pouch cells use a lightweight aluminum-polymer film to house the battery core, however most Li-ion batteries on the market today still use outdated hard metal battery casings. Comparing metal casings and pouch cells of the same capacity, pouch cells are substantially more light weight and have good cycle performance. When a pouch cell is damaged the gas and heat can escape through a sealing port, preventing further violent reactions. However, hard metal battery casings made from aluminum and steel are much more likely to explode when damaged.
My current RV is using a 12V system, if I upgrade to a 48V system what obvious life improvements will I see?

The most perceptive advantage of upgrading from 12V to 48V is that you will be able to use high-power electrical appliances in your RV. If you need to use high-power electrical appliances such as an air conditioner, refrigerator, or oven then a 48V battery will meet your energy needs and greatly enhance your off-grid living experience. Also, thinner cables can be used to connect the battery to the rest of this system, this will reduce transmission loss, save on space and improve the safety of your solar setup.